Aircraft In Miniature Limited Well worth a look, Aircraft In Miniature Limited is a small family business which is run by Neil Gaunt in Warwickshire, England. What is unusual about our models ? - We produce 1:72 scale models which are not normally available from other manufacturers.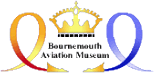 Our local aviation museum. Please visit their website for details



The RAF Museum in London

A place were they are trying to preserve the past.

Ever thought about Buying an Aircraft?